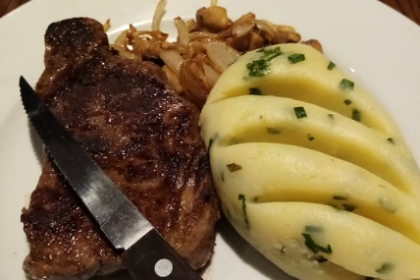 TripAdvisor – 27th September 2019
We visited here on a Friday evening with family, taking advantage of the early bird menu.
We booked in advance as its quite a small restaurant and is always full, we also took our own drinks which they happily chilled, corked and provided glasses at no extra cost. They do sell non-alcoholic drinks also though.
The early bird menu had a good amount of choices – steak, burger, sticky orange chicken, scampi etc. and you can choose how many courses you want.
I explained to the waitress that I am coeliac and asked what I could eat. It was no trouble at all, they had good knowledge of gluten free and cross-contamination etc. and I was able to choose a suitable meal and dessert. I could have had a starter but chose not to.
All of the waiting staff were absolutely lovely, nothing was too much trouble, and the atmosphere was great – it felt like visiting family for a lovely, home-cooked meal.
We both had steak and champ which was cooked perfectly. My partner had bbq chicken wings which, he said, were delicious. I had a fresh fruit and cream pavlova for dessert and it was absolutely lovely, soft and chewy inside.
Overall, a thoroughly enjoyable meal and experience. Would definitely eat here again!